What to Talk About With Your Boyfriend
Est. Reading Time: 16 Mins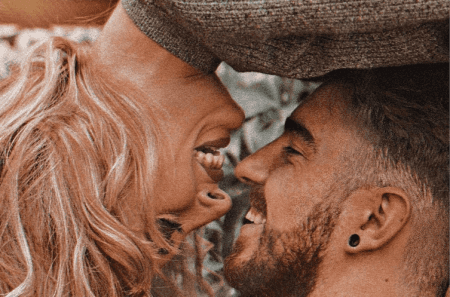 Communication is an essential aspect of every relationship. It is how two people establish a connection, which is important to have a stronger sense of understanding and empathy for each other. For this reason, couples need to talk and share each other's stories or opinions about different things.
Relationship experts believe that besides intimacy, communicating your thoughts and discussing the things that matter most in your life can strengthen your bond with your boyfriend.
Talking to someone whom you share an emotional connection with, such as your boyfriend, should happen spontaneously – like it's the most natural thing to do to get to know more about each other. If you're still in the early stages of your relationship, it's understandable for you to feel a bit of tension and nervousness. It's part of the process. However, as you go along, you should start to ease up and become more comfortable whenever you talk.
If you are wondering what to talk about with your boyfriend, we're featuring a list of interesting topics suitable for all relationship stages. Whether you've been together for a day or a year, these talking points can help you enjoy great conversations every time.
As simple as they may sound, these fundamental ideas could also help you uncover your boyfriend's point of view and get a glimpse of his thoughts.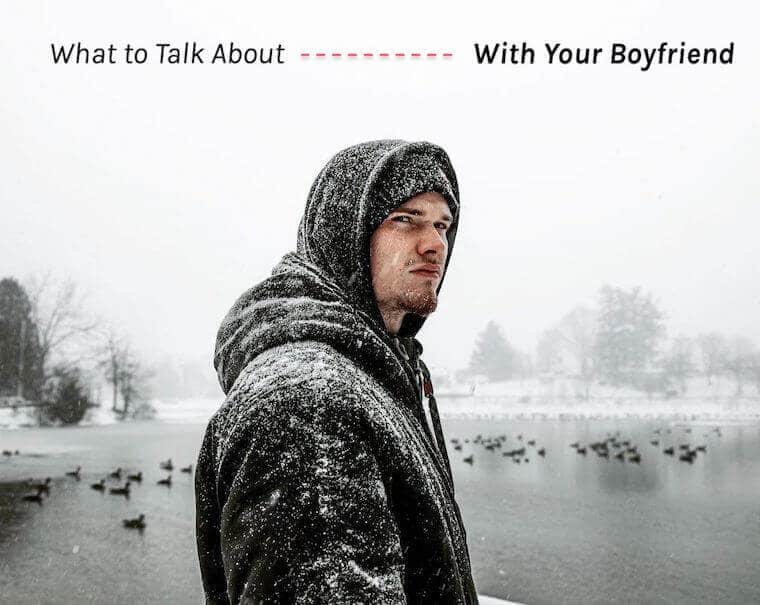 Here are the best topics you can talk about with your boyfriend;
1. Interesting things that happened during the day.
Asking your boyfriend how his day was is a good way to start a pleasant conversation. It implies that you care about the events of his daily life and that you're interested in talking and listening to him. It is also one way of establishing a healthy communication process in your relationship since you're encouraging him to share snippets of his life with you.
For example; straightforward questions like "how's your day?", "did you have a nice day at work?", and "how did you spend your day?" are basic conversation starters that can set things in motion. Despite being cliché, they are constructive, thoughtful, and sympathetic questions that would allow your boyfriend to become more open with you. Even guys that have been in a relationship for a long time appreciate it whenever their girlfriends curiously inquire how their day was.
2. Your thoughts about the latest movie you watched together.
To have more things to talk about with your boyfriend, you should spend time together. A classic example is watching a movie or a TV series. This would give you a good topic to talk about later on. You can discuss your individual views about the movie and explore various aspects that encourage sharing of ideas.
Watching a movie together and spending some quality time talking about it enables both of you to express your opinions. It allows you to gauge your compatibility based on how you perceive things that could happen in real life.
In this case, the movie serves as a benchmark that opens up many new ideas and amusing topics worthy of discussion over a cup of coffee or while having a nice walk together.
3. Priorities in life.
Having a boyfriend requires you to manage your priorities in life to achieve a good work-life balance. As a woman, you have to normalize independence in some aspects of your life and interdependence on some. You can talk about this with your boyfriend to establish a clear boundary between your career goals and personal life.
Discussing your priorities and sharing them with your boyfriend would make him feel that he is a part of your life, no matter how busy life gets. This would enable you to carry on with your relationship from a place of honesty and certainty about each other. More importantly, talking about your current priorities in life can spare you from dealing with misunderstandings and feelings of neglect later on.
4. Family life.
If you're comfortable discussing your family life, such as your culture and practices at home, consider this a good topic with your boyfriend. This is one way of making him feel important since you share a significant part of your life with him. You can talk about your parents, your house rules, how you spend your holidays, and the family traditions you grew up with.
Sharing relevant details about your family would make your boyfriend understand and know you more. It is one way of communicating your values, morals, and standards, which is the best way to determine how committed he is to become a part of your life.
5. Your bucket list.
What's on your bucket list? Are there activities and adventures that you'd want to try out someday? These are good talking points that you can discuss with your boyfriend. The chances are that he would be more than happy to do them with you. After all, having a boyfriend means having someone with whom you can share new experiences.
You can talk about outdoor adventures that you'd want to try, such as camping, trekking, and bungee jumping. If you want to learn a particular skill, such as free diving, ballroom dancing, and painting, you can talk about joining a class together.
Talking about what's on your bucket list can open up new topics that you'd love to explore with your boyfriend. What's even more exciting is the idea of planning them with someone who's willing to join you outside of your comfort zone. This makes unlocking achievements even more special and memorable.
6. "Likes and Dislikes".
What better way to get to know each other better than by talking about your "likes and dislikes". Take turns asking each other questions about the things you like and the things you don't like. You may also explore different categories like food, places, sports, music, and movies, among many others.
To add an element of fun, feel free to modify a typical Q and A into a guessing game. This would allow you to discover how much you know about each other. At the same time, it would be fun to see and hear your boyfriend's impression of you.
7. Most embarrassing experiences.
Enjoy a good laugh with your boyfriend by talking about your most embarrassing experiences. It may be an unconventional topic, especially if you're trying to exude a perfect aura. However, these experiences are all part of who you are.
For example, you can talk about your past dating disasters, high school misadventures, and awkward fashion sense as a teenager. Wouldn't it be fun and liberating to talk about the things that make you vulnerable?
Whether we admit it or not, we all have cringe-worthy moments in the past that we would rather not experience again. Even so, it pays to talk about them with someone who won't judge us for these mishaps. Being open about our "not-so-perfect" moments is what makes us genuine. It gives us an edge, which ultimately adds substance to our personality.
8. Your plans and expectations from each other.
As a couple, you have to be aware of each other's expectations in your relationship. For instance, how often should you go out on dates? How would you spend your anniversaries? Should you move in together? These are some things that you should discuss with your boyfriend to understand how your relationship works.
It is natural for couples to have specific arrangements, particularly under certain circumstances. Factors such as work schedule, distance, and priorities can all affect your expectations from each other. To maintain your sense of security in the relationship, it is important to discuss these matters with your boyfriend.
This would give you a clear understanding of the structure of your relationship, so none of you would feel undervalued and unimportant.
9. Walk down the memory lane.
Reminisce how you first met by walking down the memory lane with your boyfriend. It is always a good idea to look back and remember how you first started dating or when you realized you were in love. Such romantic conversation can keep the flame alive in your relationship because it gives you a chance to talk about your first encounter and relive your first date and first kiss memories.
10. Personal views about being in a relationship.
What are the things that matter most in a relationship? How do you manage your expectations? Why did you decide to enter into a relationship? These are just some of the things you can discuss with our boyfriend. It may seem like a serious conversation, but it's one way of figuring out how much your relationship means to him.
Keep in mind that there are no right or wrong responses. Guys have their own perspectives when it comes to love and commitment, which constantly change over time. So regardless of how long you've been together, take your time to discuss your personal views about your relationship.
This can help you confirm if you still share the same hopes and dreams for the future; or if you're able to satisfy each other's wants and needs.
The Bottom Line
Don't feel pressured to think of topics to talk about with your boyfriend. You are not required to have a conversation every waking moment, especially if he is not in the mood to do so. Once in a while, it feels good to just cuddle and hold hands.
Instead of worrying about what to talk about with him, accept that there will be moments of silence in your relationship, in the same way, there will be fun-filled conversations. Lastly, if you genuinely have a strong connection, those occasional silences won't feel uncomfortable at all.