How to Call a Chat Line Internationally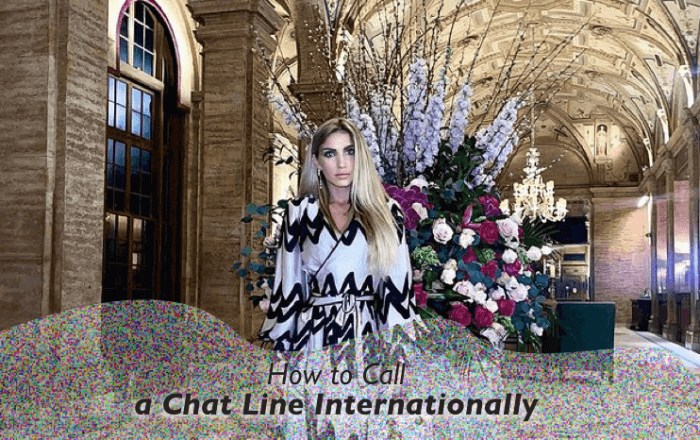 Calling the chat lines offers a direct way to connect and chat with local singles if you're from the U.S. and Canada. Imagine the awesome possibilities that could unfold by talking on the phone with someone who shares your interests. It is the most convenient way to spice up your social life and make new friends from the comfort of your home, whenever you want.
What if you're not in the U.S. or Canada? Is there a way for you to call the chat lines? Sure enough, there are several ways for you to access the chat lines from anywhere in the world. Once you can connect to your choice of chat line successfully, you can certainly chat with callers in the U.S. and Canada. Let's explore the options.
How to Call U.S. or Canadian Chat Line From a Different Country
If you want to call the chat lines, but you're currently residing outside the U.S. and Canada, there are several things you can do to gain access. For starters, you'll need to take note of the following;
First, you would need to spend money for the international call because the free trial numbers are only available for chat line callers using a U.S. or Canadian phone number.
Second, even if you are willing to purchase a chat line membership package, one of the requirements is your U.S./Canadian zip code and phone number. This is because the system connects its members to the local callers in accordance with their location.
Third, many features will not be available for you, such as free lifetime membership for female callers (offered by several chat line companies) and promotional discounts. Depending on your mobile carrier, you will also encounter additional charges whenever you access some of the chat line's features, such as voice messaging, voice mailbox, and customer care service.
Despite all the conditions and limitations, there is no such thing as a dead-end, if you really want to try out something. Hail to a modern telecommunications system and the power of the internet! You can call the chat lines from anywhere in the world to chat with American and Canadian singles. Here are the best options available for you;
Call the Chat Lines From Your Local Phone Number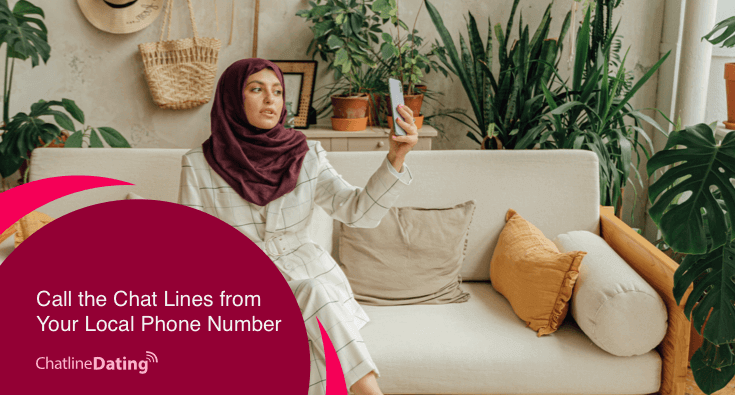 Most telecommunication companies across the globe allow their subscribers to make international calls, particularly to the U.S. and Canada. However, expect to pay a higher rate per minute because an international call essentially costs more than a local call.
The first thing that you'll have to do is to inquire from your mobile carrier or landline service provider about their rates and charges for international calls. Telecom companies usually implement international call charges on a per-minute basis.
You may also inquire if they offer special promos for international calls, such as a fixed rate for the first 10 minutes or an international call plan for frequent callers. Availing such promos would allow you to make a call in the U.S. and Canada at a discounted rate. It is also a feasible way to manage and budget your calls.
To call a chat line number in the U.S. and Canada, dial the country code 001 or +1, followed by the phone number. Calling the chat lines from anywhere in the world using your local phone number is practically a walk in the park as long as you have the money to pay for it. The only downside is that you won't access the free trials, which are only for callers in the U.S. and Canada.
Calling Tools to Call Internationally
Magic Jack USB Device and MagicApp
The Magic Jack is a device that uses Voice over Internet Protocol or VoIP to enable its subscribers to make overseas calls to the U.S. and Canada through the internet. Anyone with a duly registered Magic Jack USB device or active Magic Jack app subscription can call any U.S. and Canadian phone number, including the chat lines, and receive calls from these countries.
There is no need to apply for an additional telephone service once you activate your Magic Jack subscription. You will also have your own U.S. phone number and an option to opt for a vanity phone number once you register your device.
If you own a Magic Jack USB device, you may download the free MagicApp Companion app on your smartphone and register your assigned U.S. number. This app offers the flexibility of calling directly from your smartphone via internet connectivity.
Any Magic Jack customer who has a compatible Android or iOS smartphone can access the free MagicApp. After downloading the app, you may call any chat line number in the U.S. and Canada as if you are there. You may even access the free trials if you're a first-time caller and avail a membership package that complements your lifestyle.
The Magic Jack guarantees excellent and crystal-clear call quality to the chat lines, as long as you have stable internet. The annual subscription fee is $39.00 plus fees and taxes – a small price to pay if you love chatting with American and Canadian singles.
Vonage
Vonage also works via Voice over Internet Protocol (VoIP) and enables its users to call the chat lines from anywhere in the world through their existing high-speed internet. It can transform your phone into an ultimate digital calling service that allows you to call any U.S. and Canada phone number anytime you wish.
Just plug the device into your internet router, then connect it to your phone. If your main objective is to call the chat line's toll-free numbers, you may purchase a plan that would allow you to make calls to the U.S. and Canada alone. Premium Plans, such as the Vonage World Prime, offer access to phone numbers in over 60 countries worldwide; and thus have a higher monthly fee ($29.99).
A plan that would allow you to call the chat lines in the U.S. and Canada costs $9.99 for the first 6 months and as low as $14.99 for every succeeding month (400 minutes/month and 5 cents/minute after that).
If you want an unlimited call service, you may opt for an upgraded plan that costs $9.99 for the first 6 months and $26.99 for every succeeding month thereafter. The service contract is for one year.
Vonage offers free shipping and free activation. You have the option to renew your contract after it expires and request a new phone number. Once the set-up is complete, you may start calling the chat lines' toll-free numbers from outside the U.S. and Canada.
You may even access the free trials on your first call, which last for 10, 30, or 60 minutes, depending on your choice of chat line service provider.
Countries That Block Phone Dating Chat Lines
Some countries prohibit using the chat lines primarily due to the adult content, which defies their religious beliefs, culture, and traditions. There are actual reports that provide analytical data and numerical ratings regarding the status of internet freedom in different countries throughout the years.
A list of internet censorship and surveillance by country also reveals pertinent information about the different levels and types of surveillance and internet restriction in different countries worldwide.
If you happen to be in these countries, you will not be able to access the chat lines or visit the chat line websites. In such cases, the government in these countries block specific applications and technologies, to gain control over internet and mobile phone access.
As a result of this strict protocol, you would encounter major obstacles in accessing the chat lines, find limited content and features, and discover manipulation of the actual content. You may even be sued for violation of user rights, which could lead to legal prosecution, harassment, imprisonment, and violent attacks.
The countries that have strict internet protocols are; China, North Korea, Vietnam, India, Russia, Cuba, Uzbekistan, Sudan, and the majority of the countries in the Middle East (particularly Saudi Arabia, United Arab Emirates, and Bahrain).
If you are from these countries, finding a means to call the chat lines would only cause you a great deal of trouble – a price that is too much to pay for your curiosity.