Using Chat Lines as Therapy for Anxiety and Depression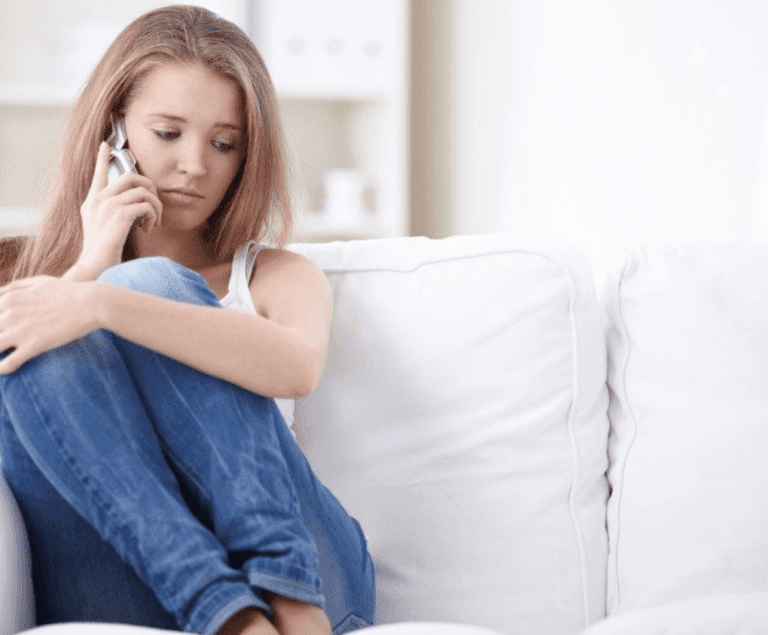 We all know that talking to someone who cares is therapeutic. It's one of the main methods, if not the main method, in psychotherapy.
It also happens to be one of the best ways to calm the minds of emotionally disturbed persons. This is why suicide and depressed hotlines exist. They help people who are truly on the edge, and have nowhere to go to.
But not all us can call suicide or depressed hotlines, and certainly, most of us can't afford personal therapists. And what if our friends don't want to talk to us about our problems? What do you do if you have nowhere else to go?
Ordinary chat lines manned and controlled by other ordinary people exist, and you can use them any time you want, for whatever reason you want. And the best part is?
Most of them offer free trials, which you can try before you commit yourself to them. So if you're wondering about the therapeutic benefits of chat line chats then here's what you need to know.
It's Not Only For Fun And Dating
Most people think that chat lines were developed for people to have fun or hook up, and this is true to a certain extent. People do use chat lines to find dates or simply have phone sex with other people. However, most chat lines are also more than that. They are also conduits that connect different types of people with one another.
Yes, most chat lines have their fair share of young people and people looking for romance, but it also has plenty of people who are just looking for companionship, conversation partners and people whom they can talk to with no strings attached.
The Benefits of Phone Chat Lines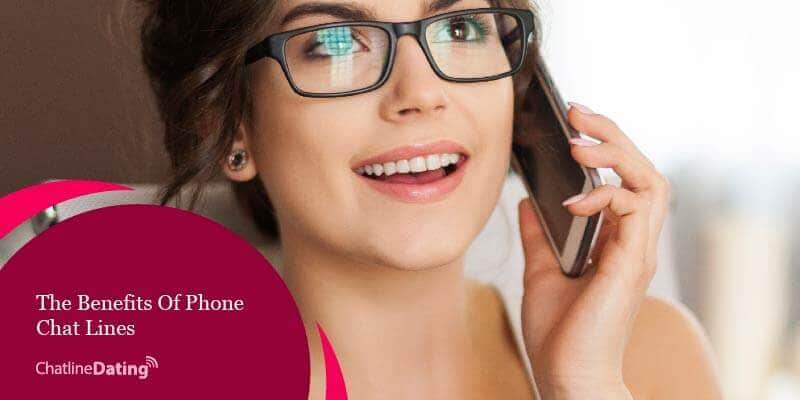 Our chat lines offer several therapeutic benefits to people, and here's what they can do for you.
1. Anonymous Conversations
One of the best things about chat lines is the anonymity that it offers. You can share whatever information you want with the person you're speaking with on the other line.
You can use a pseudonym or you can use your real name. You can share your location or you can make up a place that doesn't even exist. You can share details about your life, or you can make up any artificial persona that you want. It's your call.
Many users take advantage of the anonymity offered by chat lines to express emotions and ideas that they would never share with real people. It's also one of the ways by which they express their deepest desires, fears, and emotions without consequence.
Because many people on chat lines are complete strangers, they also don't need to worry about rejection or social disapproval. At worst, they will be expelled from the chat line by moderators for breaking the local rules, but other than that, users can get away with practically anything because everything is anonymous.
So if you feel that you need to speak with someone anonymously then a simple chat line is what you need. Your conversation will be completely safe, and you can raise whatever topics or subjects you want without any consequences.
2. Escape From Reality
Another important benefit offered by phone chat lines is that it allows people to escape the monotony of their everyday lives. Roleplaying, for example, is often used by people to make chat line sessions more enjoyable. In these sessions, users roleplay as persons or characters that they've always wanted to be.
The roleplay may also have its own story. It can be sexual or completely platonic. It may even incorporate strange or fantastic elements. The important point here is that, for a brief moment, people can escape their ordinary lives, and play out their desires.
Some people desire companionship and interaction, while others only want to escape reality out of frustration with their daily lives. Either way, they are doing something that they've always wanted to do, and that is very therapeutic.
Aside from roleplaying, chat lines may also be used to relieve certain events in a person's life, or at least, act out events that bring them happiness. This form of therapeutic conversation can be quite helpful for people who are experiencing psychological and emotional problems.
Moreover, they can also help chat line users confront earlier events in their lives in a safe but constructive environment.
Finally, it's worth mentioning that these imaginary sessions can function as short but fruitful vacations from the stresses caused by everyday life. Imagine working a standard office job and then going home to a quiet apartment.
A short chat line conversation can make that sort of daily routine less boring for a lot of people, which is one of the reasons why so many people use chat lines.
3. Meeting New People
Another benefit of the chat lines is that they allow users to meet new people, particularly people who share their tastes and emotional needs.
Many chat line operators are aware of this need, which is why many of them organize their users into groups and communities to better help like-minded users find and meet each other.
One of the most common social problems people face is that they can only make friends with those whom they meet in their local areas. For people who cannot get along with people in their immediate community, this presents a problem.
Consider, for example, living in a town where your favorite show or book is not particularly popular, or you live in a city that doesn't share your political preferences. For people who live under such circumstances, looking for other people to talk to can be quite difficult.
chat lines help to address this issue. Like the internet, phone chat lines connect like-minded people with one another. It helps them overcome the limitations of their current addresses, and find people who share their interests and ideas.
Phone chat lines allow people to talk about video games, TV shows, politics, social issues, and anything else that attracts their attention. They also allow people to talk openly about topics that would be considered taboo in their community.
The best part, though, is that whenever their conversation partners no longer want to talk to them, there are plenty of other options out there.
Chat Lines Help You Find the Right Type of People
Another benefit offered by phone chat lines is that they allow you to speak with people that you like. Chat lines allow you to meet people based on age, gender, interests, and goals. They will even allow you to filter chat mates by location and dating history.
For people who are looking for therapeutic relief and assistance, this is a very important feature, as it allows you to avoid persons whom you don't like while finding those whom you enjoy talking to.
So unlike the real world, where everything is sort of random, chat lines allow you to avoid people that make you sad or angry.
Maybe you like to talk to people with gentle personalities, or do you prefer those who are a little more spirited? Maybe you want to talk to someone who understands your life, or would you rather speak to someone whom you have little in common with?
Do you want to speak with someone from another country or do you prefer talking to someone who lives only a few blocks from you?
Chat lines allow you to filter people according to these standards. So go ahead and take advantage of them. They are there to help you. If you've never used a chat line before, contact their representatives or moderators, and they will help you to get started.
Chat Lines Can Help You Relax
Sometimes, a short chat is all you need to relax and unwind. For some people, it can even be a form of fun and entertainment. Yes, most people use chat lines to talk to other people, but they often stay because it offers them the chance to have a lot of fun.
When you talk to someone you enjoy, you are able to get a lot of things off your chest, which in turn helps you deal with a lot of problems in your life. You feel lighter and less alone.
The best part, though, is that you are speaking to another ordinary person, not a therapist, and that's a big help to your daily life.
Free Trial
Finally, it's worth remembering that many phone chat lines offer free trial periods to allow interested users to try their services without paying any money. These trial periods usually last between 30 to 60 minutes and offer trial access to the chat lines features and community.
If you've never used a chat line before then these free trials will allow you to experience what it's like to use chat lines. They can also show you what sort of topics are discussed by other chat line users, and whether or not they match your own interests.
So basically, these free trials are designed to help you decide if the chat line is right for you or not, which means that you won't have to make any commitments.
If you like the service then you can continue with the service. If not then there are plenty of other chat lines for you to try.
Tips on How to Use Chat Lines for Emotional Health and Therapy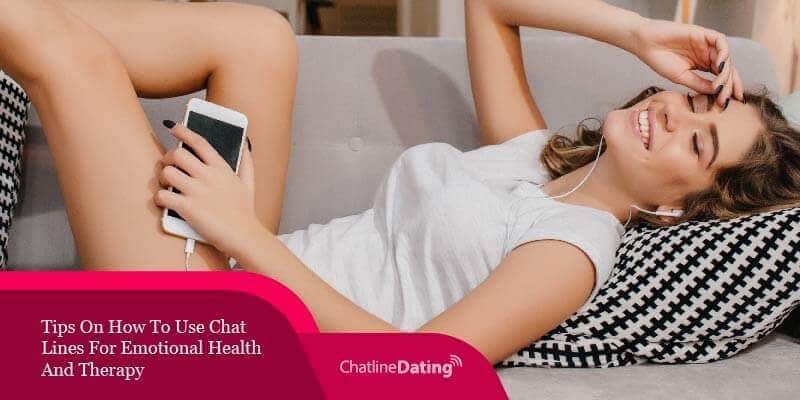 Chat Lines may be used for therapeutic purposes, but you should remember that they are not manned by qualified therapists. They are filled with people just like you, and just like you, many of them are looking for fun and companionship.
This is one of the most important points to remember when using a chat line for the very first time: You're not the only one looking for conversation and interaction.
As a chat line user, you also have certain responsibilities in relation to your fellow members, and the following tips will help you to do them more effectively:
Listen and learn – It's tempting to let it all out to people on the chat line, but listening to other people's problems can help you speak and talk to other people.
Don't cling too hard – Remember that your fellow chat line caller are not there to fix all your problems. So don't expect your chat partner to give you their time whenever you demand. If they cannot speak with you then don't push the issue.
Avoid causing conflict – Chat lines are safe spaces as far as many people are concerned, and causing trouble will make your stay unwelcome.
Follow the chat line's etiquette – Just because chat lines are anonymous doesn't mean that you can do whatever you want. For example, if the chat line bans certain words or topics then don't bring them up, or better yet, go to a chat line where they're allowed.
Choose the right community – Finally, you will need to choose a chat line community that matches your particular needs and preferences. Do you want to talk about past relationships? There are communities for those. Do you prefer chats about your love life or romance? There are plenty of those as well. Do you want to hook up with real people; find a date perhaps? There are those types of chat lines too. So choose carefully and good luck.
Join Our Chat Lines Today
We offer some of the leading chat lines on the internet. We offer free trials, safe and private conversations, a large user base, secure connections, and many more.
When you try our chat lines, we guarantee that you will enjoy every conversation you have. You will meet everyone, from people looking for romance to singles looking for serious relationships, and everyone in between.
With our help, not only will you be able to express yourself in a safe and secure environment, but you'll also be able to have fun with people like yourself. So don't wait around. Pick up one of our high-quality chat lines and chat with some great people.